October 1 and 2, 2022, Saturday 10am to 5pm, and Sunday 10am to 4pm
Admission $8
See over 150 quilts, win a sewing machine or buckets of fabric, buy raffle quilt tickets, plus see our guild challenge quilts, shop our vendors and guild boutique, and more.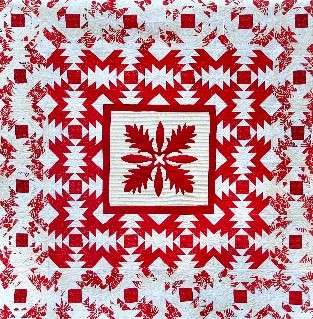 A Quilted Paradise, our 2022 Raffle Quilt
Featured Quilter Cynthia Brunz

of quiltingismorefunthanhousework.blogspot.com
will be speaking both Saturday at 10:30 and Sunday at 1. Her topic is, How to manage those scraps so you are inspired to use them. Cynthia is a quilt lecturer/teacher, longarm quilter, pattern designer and quilt blogger. Her quilts have been featured in many magazines, books and industry social media sites.
Cynthia will be teaching a class during the Quilt show!
Two Bits Quilt
see the quilt on her website Here and below
Saturday October 1, 2022
12:30 – 4:30
Tualatin River Room at the Hidden Creek Community Center
Cost: $45
Note: There is a limit of 12 Quilt Guild Members for this class. There are still a few slots available!
Sign up Here
(fill in the form and Submit it. then the Registrar will send you a confirmation and a link to make the payment)
Contact: westsidequiltersguild@outlook.com
Vendors include:
Aloha Sew and Vac – Sewing machines and fabric
Herb's Daughter Custom Soaps – Artisan soaps, herbal shampoo, salve, lotions and deodorant. (Saturday only)
Janet Fogg – Quilting patterns and kits
Lala & Mer – Specialty zippers, kits for making bags
McKenna Ryan – Patterns, fabric kits, laser kits, fabric bundles, and notions
Sharon's Attic – Fabric, books, and quilting supplies
SoSewGifts And Benny's – Craft kits, perler beads, stickers, magnets, and sewn gifts (Sunday only)
The Country Quilt Shop – Designer fabric, patterns and notions
Green Trees Crochet – Yarn kits, notions and gift items
Info at westsidequiltersguild.com, on facebook, and Instagram
Our Sponsors! Thank You!
Any questions can be made with Heidi Nesheim or Joyce Greenfield at wqghillsboro@gmail.com