October 1 and 2, 2022, Saturday and Sunday
Our Quilt Show was a great success! Beautiful day, beautiful quilts, vendors, boutique and many visitors!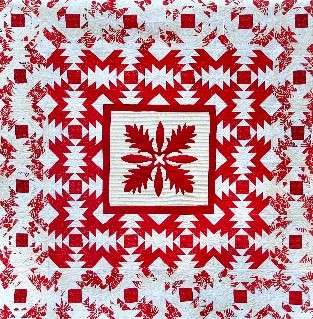 A Quilted Paradise, our 2022 Raffle Quilt
Featured Quilter Cynthia Brunz

of quiltingismorefunthanhousework.blogspot.com
spoke both Saturday and Sunday on How to manage those scraps so you are inspired to use them. Cynthia is a quilt lecturer/teacher, longarm quilter, pattern designer and quilt blogger. Her quilts have been featured in many magazines, books and industry social media sites.
We hope to see more of her soon!
Contact: westsidequiltersguild@outlook.com
Vendors include:
Aloha Sew and Vac – Sewing machines and fabric
Herb's Daughter Custom Soaps – Artisan soaps, herbal shampoo, salve, lotions and deodorant. (Saturday only)
Janet Fogg – Quilting patterns and kits
Lala & Mer – Specialty zippers, kits for making bags
McKenna Ryan – Patterns, fabric kits, laser kits, fabric bundles, and notions
Sharon's Attic – Fabric, books, and quilting supplies
SoSewGifts And Benny's – Craft kits, perler beads, stickers, magnets, and sewn gifts (Sunday only)
The Country Quilt Shop – Designer fabric, patterns and notions
Green Trees Crochet – Yarn kits, notions and gift items
Info at westsidequiltersguild.com, on facebook, and Instagram
Our Sponsors! Thank You!
Any questions can be made with Heidi Nesheim or Joyce Greenfield at wqghillsboro@gmail.com