The Westside Quilters Guild is committed to promoting the art of quilting, both traditional and modern, as well as providing education to the community on the history and artistry of quilting.  Upon request, we can provide presentations as well as hands-on activities to groups interested in learning about the evolution and art of quilting.  Our goal is to reach out to the community in the spirit of sharing the art of quilting.
Presentations currently available:
History of Quilting
The Quilt Barn Trail of Oregon's Washington County
Recent educational activities have included:
Quilt displays in the North Plains library.
After school activities with older elementary girls in the Adelante Chicas program in Hillsboro and Cornelius.  We did events with them in April, 2022 and December and February 2023. Contact our education group if you are interested in participating –

 

VPEducation@WestsideQuiltersGuild.com. It is great fun!
Check out this article from Adelante Mujeres that mentions us as a community Partner

 

Click Here
Display of modern quilts created by WQG members at the Hillsboro Civic Center.
For more information, contact the WQG Vice President for Education.
We really need volunteers to keep these programs going!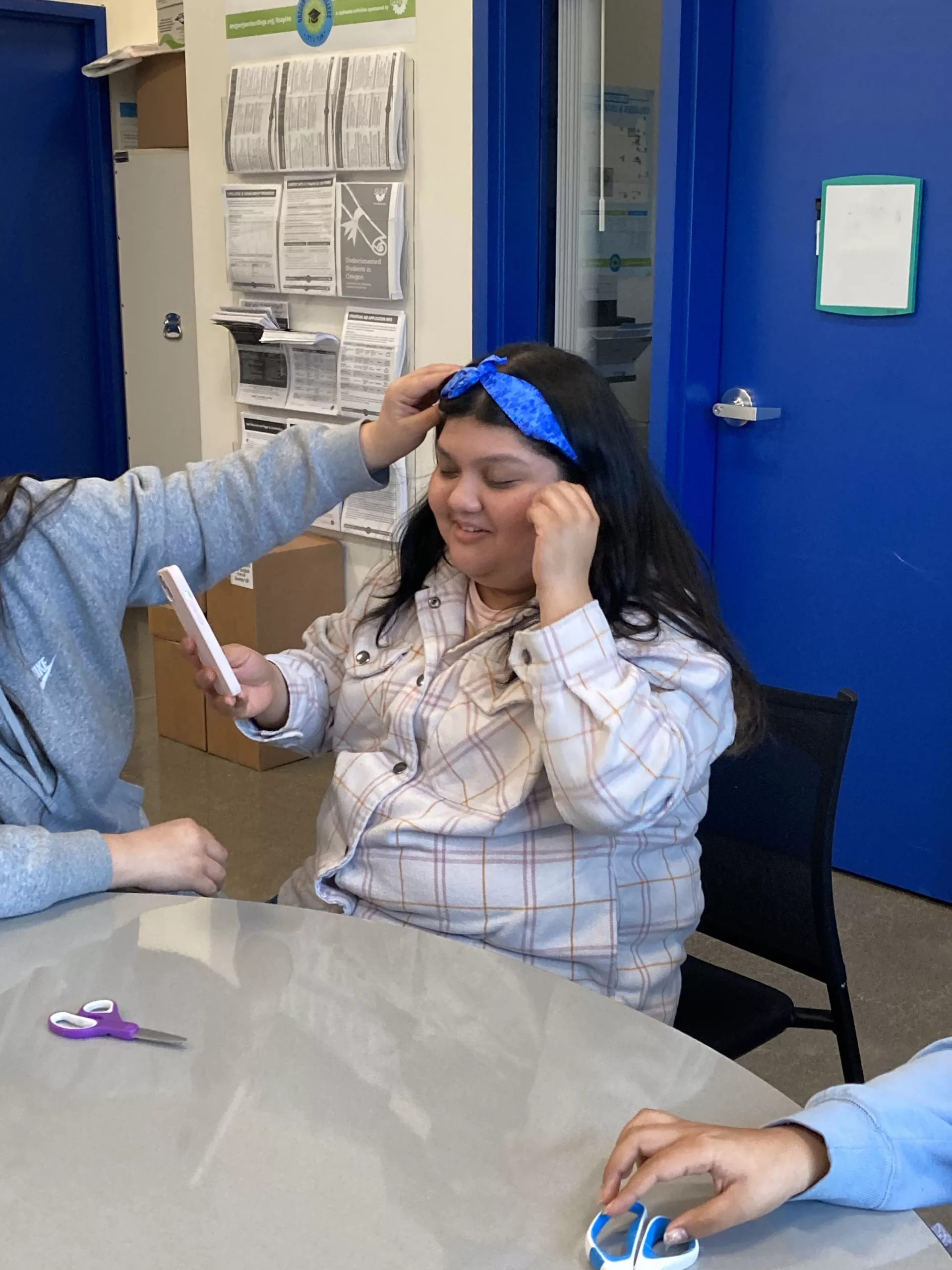 The guild Education Committee's activities, like most, were impacted by the pandemic; but we are now able to participate fully in community education efforts again to fulfill part of our guild's mission statement of Charity, Education and Community. We have various volunteer opportunities in the coming year, primarily with young girls in the community through the Adelante Chicas program. These afterschool programs, in 30 schools in Beaverton, Hillsboro and Forest Grove, provide leadership and personal development to girls and young women in older elementary, middle school and high school after school programs. While Adelante's mission is mainly focused on Latinas, the Chicas programs attract a diverse group of girls.
Beginning in December, we will be presenting on quilting, showing our quilts, and helping girls make hand warmers (their request!) at a couple of schools. In February, we will visit 2 elementary schools, and we will be making quilt squares again at other times in the Spring. We will also have an opportunity to teach some basic sewing skills using the sewing machines that the guild donated to Adelante last year. We need more volunteers to help with these projects. This isn't a big volunteer commitment, as most programs meet after school for an hour or two, and we only do a couple of sites a month. There is only a minimal amount of prep work involved as well. And in case you were wondering, no Spanish language skills needed! Here is what several of our members have said about these activities:
• "Working with the Chicas programs on quilting and craft projects has been such a joy for me. I love seeing their enthusiasm for the projects we have shared
with them so far." Bobbie Rodriguez
• "The girls have been a joy to work with. They are eager to participate, and
cooperative with us and each other." Claire Gottschalk
• "The girls are so much fun to work with! And it is so satisfying to help young
girls learn the joys of sewing." Marta Lansing
As one volunteer added, "Don't miss out on joining us for one of these upcoming events. It's just for one afternoon. You will be sharing a lifelong skill and even more important, they will be sharing their stories with you too."