The Westside Quilters Guild was founded in 2007 to promote fellowship among quilters; to promote knowledge and appreciation of quilts and quilt making through educational programs and meetings; and to sponsor and support quilting activities.
We currently have about 200 members primarily from Hillsboro/Forest Grove/Beaverton and Portland areas. Our general meetings are on the second Thursday of the month at the Aloha Faith Center in Aloha. Our meetings are held at 6:30pm. Doors are open at 6:00pm for social time. See the Home Page for Map and info.
The Guild's calendar year is July of current year to June of following year.
Charity
Making and donating quilts to several charitable organizations is a regular part of our goals. we have an interest group that meets on a regular basis to create and distribute wonderful quilts.
Education
The Westside Quilters Guild is committed to promoting the art of quilting, both traditional and modern, as well as providing education to the community on the history and artistry of quilting.  Upon request, we can provide presentations as well as hands-on activities to groups interested in learning about the evolution and art of quilting.  Our goal is to reach out to the community in the spirit of sharing the art of quilting.
Community
From its founding, WQG has focused on being a valuable part of the Washington County community. Activities include: working at the annual North Plains Elephant Garlic Festival; creating exhibits at county museums and libraries; showing quilts at numerous events and festivals, galleries and our own quilt shows; making and donating many charity quilts and quillows; demonstrating and teaching quilting both to adults and children; writing and presenting a talk on the history of quilting; and last but certainly not least, creating and installing the 60-block Quilt Barn Trail of the Tualatin Valley. WQG is always open to participating in community-minded activities and seeks out ways to offer support to our local community, as well as more far-reaching needs.
WQG itself is an amazing community of quilters of all skill levels and all walks of life. Members are always happy to offer guidance and advice to those with questions about quilting, and more. Participating in the community of quilting is a rewarding experience and a catalyst for personal growth and friendship.
Expression
Quilt making will always be a conduit for personal expression. Through choices in patterns, fabric, assembly techniques, embellishment, and quilting design, a quilter can tailor a project to fit their own design, budget, sewing skills, and style. WQG encourages members to strengthen their skills through workshops, lectures, challenges, and participating in the community of the guild at meetings and sewing events. From beginner to professional, traditional to modern, WQG members are inspired to push themselves to express their design sense and improve their technical skills in order to produce quilts that showcase their best efforts.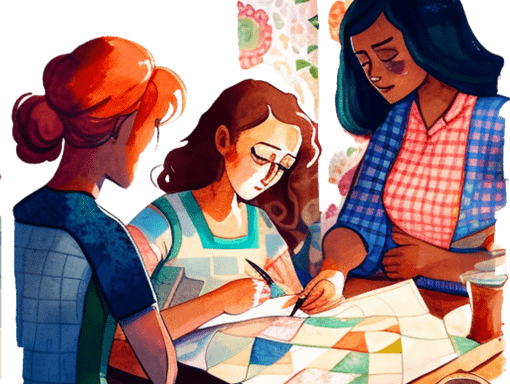 It is the mission of the Westside Quilters Guild to come together in the spirit of community and friendship for the purpose of preserving and perpetuating the many facets and dimensions of the art of quilting, through education, works of charity, community awareness, and the sharing of ideas and information.
Board Of Directors Meeting Minutes
We are a 501.c.3 organization
Click on the buttons below to see our By-Laws, Policies and Standing Rules