Sewing Saturday is on the 3rd Saturday- Oct 15, Nov 19, Dec 17 2022.
Our new venue is Aloha Sewing and Vacuum
Are you new to WQG? Are you wondering what Sewing Saturdays and Sewing Weekends are all about? Well, let me tell you a bit about them…..On the Third Saturday and four times a year To Be Decided we have free, drop in sewing days. Beginning in JUNE we will meet on the THIRD weekend of the month. Our guild provides the following: large tables to share if we are full, extension cords, ironing boards, irons, Best Press, cutting mats, rulers (provide your own rotary cutter), advice on projects if wanted, conversation, fun, and an occasional free table of things those attending no longer need. You bring: your projects (because we all know we will get more than one done, at least that's what we think when we leave home), sewing machine, lunch (or you can support local restaurants). If you want to hand sew or just visit this is great too. It is a wonderful way to meet others and share ideas. Please think about joining in the fun. The Saturday hours are 9:00 am to 4:00 pm and the Sewing Weekends are to be decided once we find a venue. I always appreciate a volunteer or two who can arrive early to help set up. Any questions, do not hesitate to contact me. 
Heidi Nesheim (look up in the directory).
Sewing Saturdays are held at:
Aloha Sewing and Vacuum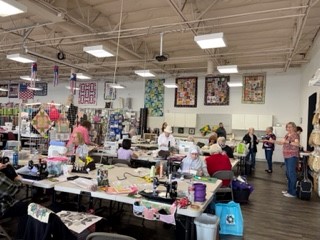 For questions contact: Heidi Nesheim
Our next Sewing Weekend will be announced once we confirm a location.
Sewing Weekends are held at: Quarterly – (Mar, June, Sept, Nov)
Sewing weekends are suspended until we find a new venue.

We hope you will come join us for a day (or weekend) of sewing and chatting with friends and other members.