Please read regarding Group Gatherings:
One of the many benefits of Westside Quilter's Guild membership is the opportunity to attend 3-day retreats. WQG has hosted retreats at several popular venues which include: the Girl Scout Retreat Center in North Plains, Alton Collins in Eagle Creek, and of course our annual retreat to Oregon Garden Resort in Silverton. We are always exploring new venue options. We hold 2-3 retreats per year and recently offered a virtual attendance option.
Our next retreat will be held at the beach! Cannon Beach, Oregon in the Hallmark Resort to be specific. Information will soon be available about registering for our fall retreat which will be held October 15-17, 2021.

Note re: Online Registration: Important!! Please read…
As you are registering for the upcoming retreat at Cannon Beach please be aware that our refund policy allows you to refund your deposit or any amount you have paid until September 9th which is the day before final payment is due. You will be required to make a minimum payment of $50 but are welcome make a larger payment or to pay the balance in full at the time of registration. At initial registration by online form Carol Sayles will contact you and direct you to the correct links for payment(s).
If you need to change your plans after that date, you are welcome to transfer your seat to someone on the waiting list and can do so by contacting Carol Sayles directly at wqgprog2@gmail.com or by calling her phone number in your current Directory.
Lodging is limited and although we may be able to give you your choice of accommodation, it may be necessary for you to room with another retreat attendee. Please tell us your preference for roommate (s) in the box provided below. There is both double and triple occupancy options this year so you may have one or two roommates. The lodging is in hotel suites so each attendee will have their own bed.
Retreat Cancellation Policy
If a participant finds it necessary to cancel, they need to contact the registrar as soon as possible so the seat may potentially be offered to someone else. If the cancellation is 3 weeks or more prior to the retreat, a refund will be issued. If it is less than 3 weeks prior to the retreat, no refund will be issued. However, the member cancelling may gift or sell their space to the next person on the waiting list. If there is not a waiting list they can gift or sell to a person of their choosing.
Registrar: Carol Sayles – wqgprog2@gmail.com


Our Next Retreat….
Mark your calendars for our Fall Retreat! We will be retreating at the Hallmark Resort and Spa in Cannon Beach from October 15-17, 2021. The details for the retreat are coming together and there will be more information out about pricing very soon. We plan to start registration August 1st and will be using our new web site to conduct this on-line with the ability to take payment through our pay portal as well. The resort is located right on the beach with a view of Beacon Rock. The resort has a spa if you would like to pamper yourself and is located a short walk from Center Diamond Quilt Shop . Check out the amenities at the resort and the quilt shop at the links above. See you in October! For more information and sign up information click here.

Past Retreats
Oregon Gardens Retreat
879 W. Main St. Silverton, OR 97381
February 19-21, 2021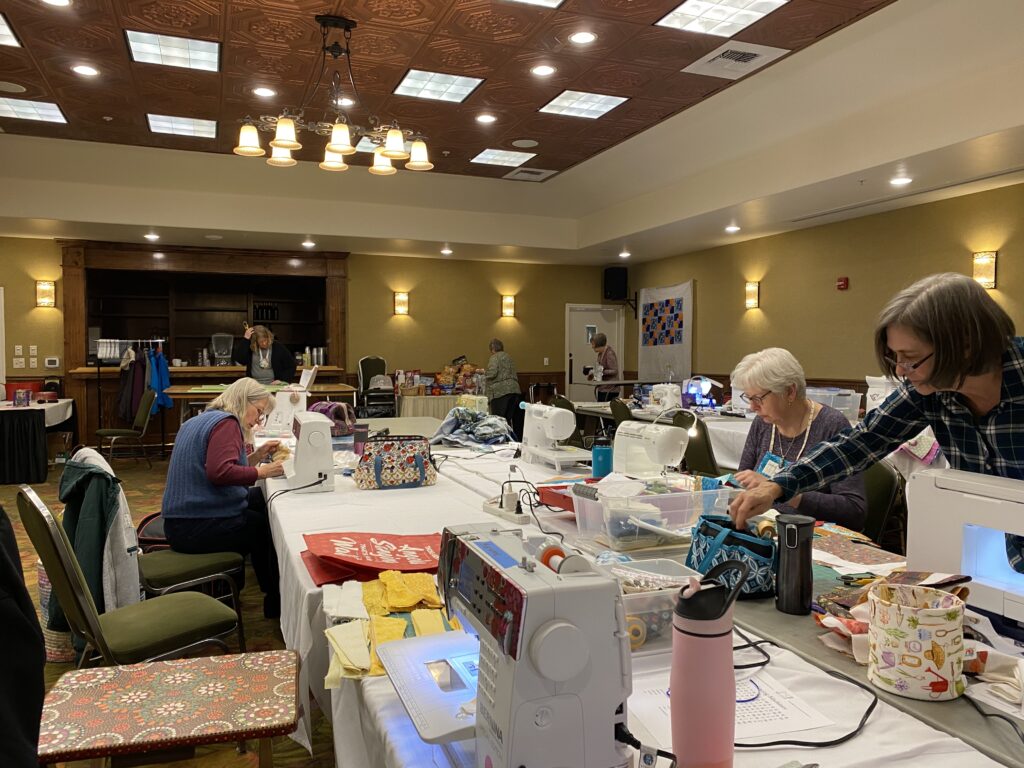 Oregon Gardens "Virtual" Retreat
via ZOOM
February 19-21, 2021