This is the place for lots of miscellaneous things…
Here are the quilts given to past Presidents at the end of their term:
this is for Judy Q Block:



this is for Sue Nichols:



Help Wanted:
Patient Quilter
Requesting the assistance of a patient quilter…
I was contacted by a man whose mother is in a memory care facility in Forest Grove. She was an avid quilter and, when she can remember, she misses her fabric. She is not able to have a sewing machine or sharp tools. He would like to hire someone to visit her and help her make some small projects. If she responds well, he would like to continue the arrangement.
Please contact Sue Hauser if you would like to be put in contact with him.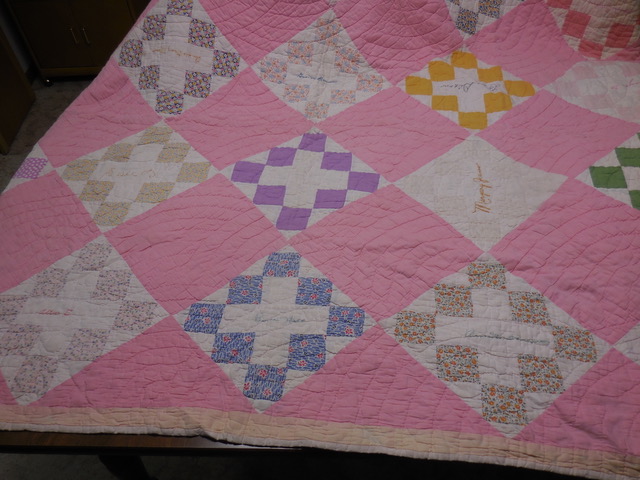 This is from Julie Mason:
I have been given a Friendship Quilt, to see if any of the names are of Hillsboro origin.
It is a nice quilt, probably made in the 1960s, gently used; all cotton, hand quilted, 78"X65"
The names are Julia Osborn, Viola Osborn and 18 other names, including:
Thompson, Gardiner, French, Cooper, Dixon, Coleman, Manis, Gray, Girdner and James.
It started in Hillsboro at L'Stuff, from there through several hands; and may have already gone through the NW Quilters question box."
From Judy Goldmann
If anyone knows any of the names or anything possibly connected to this quilt, please contact Julie Mason at arxjdm@outlook.com