It's quilted!!! and ready for A Quilted Paradise …. (Special thanks to AnnMarie Cowley for the beautiful quilting…) and Sue Nichols for the binding.

You can Help with ticket sales!
We need venues where we can set up a table and sell raffle tickets for this gorgeous quilt!
If you have any suggestions please contact Marilyn Hickman or Jean Lasswell soon!
also you can pick up tickets to sell at the monthly meeting.
This is a great fundraiser for the guild, so we appreciate all members pitching in and helping!! (and if you buy some tickets you might bring home this amazing quilt!! )
,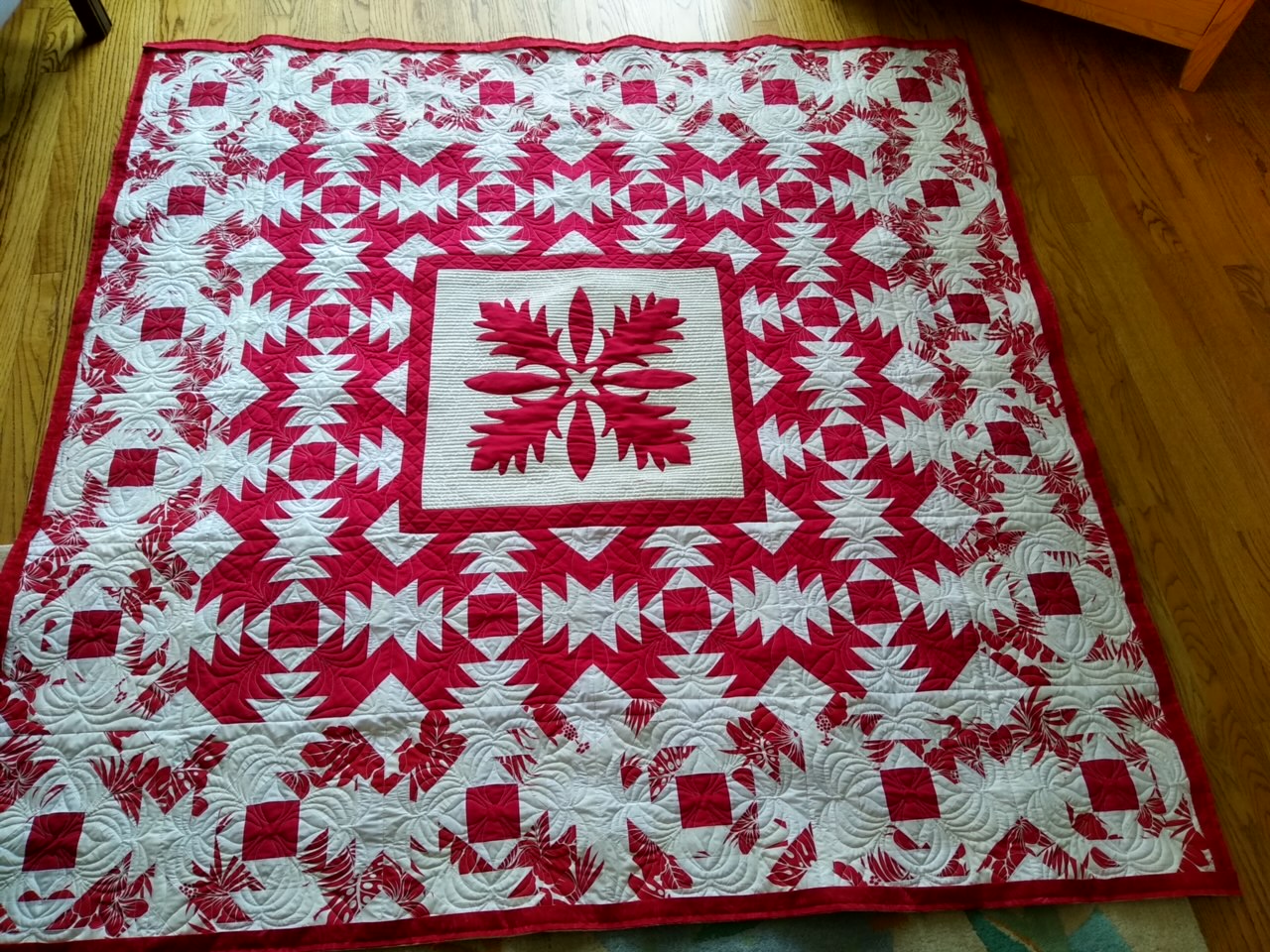 We are very excited to share with you the "back story" and progress in the making of our 2022 Quilt Show Raffle Quilt. Check back often to see and learn updates on this project and when and where tickets will be available to win this beautiful quilt.


Quilt Top pieced and history told by Robbie Berg

This beautiful quilt top was generously donated by Robbie Berg, WQG Member, and quilted by AnnMarie Cowley, WQG Member/LongArm Artist. AnnMarie has also generously donated her services as well as batting/backing to bring this quilt to life. Thank you, Ladies!!

This is the 20 year history of the raffle quilt:
-The center motif was from a Hawaiian applique' kit purchased at the Polynesian Cultural Arts Center in 2000 on a family vacation with my three children aged 18 months, 12, and 17.  The applique' was completed in 2003 and sat waiting to be turned into a pillow.  The applique is the Hawaiian depiction of breadfruit.  
-The red and white floral fabrics were purchased on another family trip to Oahu for my daughter's wedding in 2009.  
-I took a class at the Paisley  Duck  in 2018 using the Block Lock ruler to make a sample pineapple block from the red and white floral.  I later completed enough blocks to make the quilt and decided to use the Hawaiian applique for a center motif.  The top was completed in early 2019.
-The quilt top was used to demonstrate use of pineapple blocks and how to use the block lock ruler in a series of classes that I taught Westside Quilter's Guild the summer and Fall of 2019.
-The world, as we know it, turned on its axis with the pandemic from early 2020 to summer of 2021.  
-The quilt was donated to the Guild in July 2021 for the 2022 Quilt Show raffle quilt and sent to the quilter Annemarie Cowley for quilting and binding.  
-My children are now 23, 33, and 39.  So the making of this quilt spans much of their childhood.