Our Next Program Speaker
February 9, 2023
6:30pm
February 2023 Meeting Event
Kelly Cole of Vintage Fabric Studios in Portland
The presenter for our February, 2023 meeting is Kelly Cole. Kelly is the creator of Vintage Fabric Studios in Portland, OR. Vintage Fabric Studio's mission is to get beautiful vintage textiles into the hands of quilters, sewers, and crafters before they enter the landfill. In the shop, you will discover Kelly's custom color fat quarter bundles, die-cut charm square packs, and sewing kits for vintage fabric lovers everywhere.
She has this to say about herself: "My name is Kelly Cole and I am the creator of the Vintage Fabric Studio. My skills as an experienced quilter and seamstress, along with my love of all things vintage, have come together to bring the fabric community the ultimate source of vintage textiles packaged for the modern sewer and crafter. When I am not using my vintage thrift-store ninja powers, I love to be with my two young boys, tend to the vegetable garden and get into shenanigans with my husband of 15 years; and of course, just sew."
Don't miss this fun program- the nostalgic fabrics are sure to put smiles on your face! Kelly will also have some yummy vintage fabric packs and patterns for sale, too.
Where to find Kelly:
blog: https://vintagefabricstudio.blogspot.com
Etsy: www.vintagefabricstudio.com
IG Kelly_vintagefabricstudio
FB: vintagefabricstudio
Past speakers/Meetings:
November 2022 Meeting Event

Our UFO (Un Finished Objects) Reveal!

!  It's our ever popular annual UFO Challenge Reveal!!!it was our first in-person reveal of finished UFO's in 2 years. It was an evening of ooooo's and aaaaah's!
October 2022 Meeting Event
Our speaker for October will be Janet Fogg. Skill and imagination are key words for describing Janet Fogg as an artist and pattern designer. They are what she strives to show when creating her original art quilts and what she hopes to share with other quilters with her collection of quilt patterns/kits for public use.

Mostly self taught, Janet has been sewing since childhood when after losing her mother she claimed the family sewing machine as her own. "It became a tool for survival, both practically and emotionally." Janet knew at a young age that she wanted to be an artist and pursued a graphic design degree and a career in art direction.

What she didn't know was that someday she would sew her art. "After leaving my design career to be a stay at home mom, I began to patch my two creative worlds together. All it took was one quilt and I was hooked." Many of the idea generation and design skills she practiced as an art director have surfaced in her approach to quilt making including visualization and brainstorming. "The idea or the beginning is the most important part of the work."
Be sure to join us to hear this popular quilt artist and see her wonderful quilts!
July 2022 Speaker- Robin O'Neil
Our August, 2022 speaker will be one of our own guild members- Robin O'Neil. Robin will be speaking to us about improvisational quilts. She will bring 24 "Improv" quits and explain various techniques for creating these beauties.
Robin was a special education teacher for 35 years and began making quilts the same year she entered the classroom. Her interest in both was sparked by children who seemed fearless about color, pattern and play.

Her quilt making journey began with traditional quilts – striving for tidy points, perfect corners, even seams and sensible color combinations. After about 100 quilts, she left that behind. Her new philosophy is to HAVE FUN, preferring improvisation piecing. She uses no templates, no patterns, no basting, no rulers and no worries. Scraps are her friends. When something she is making doesn't work, she usually turns it upside down or cuts it into pieces and reassembles it. She then adds borders or sashing or an unexpected slice of color.

Robin's philosophy: Life is too short for stress and fretting, especially about quilts!

Robin O'Neil
Walker-oneil@comcast.net
www.robinoneilquilts.com
IG: robinoneilquilts
July 2022 Speaker- Dawn White
Trunk Show of recent work
Dawn White
Quiltmaker and teacher, sewing enthusiast, and Scrabble nut.
www.firstlightdesigns.com
Portland quilter Dawn White is a prolific quilter and blogger. The many faithful followers of www.firstlightdesigns.com are treated each week to quilting "eye candy", tips, tutorials, and uplifting thoughts. Dawn will be bringing us a trunk show of her most recent quilts along with some insights she gained along the way.
We will be having Dawn teach a workshop in the near future to make our own "Dresden Neighborhood wall quilts or table toppers. The possibilities are endless with this fun pattern! Look for information soon. This workshop is bound to be a lot of fun!
June 2022 Speaker, Kathie R. Kerler
"What Were the Judges Thinking?"
Kathie R. Kerler
Fiber artist, writer, presenter, instructor, and certified quilt judge.
www.kathiekerler.com
Kathie is a quilter who embroiders and an embroiderer who quilts. As someone who began her fiber art practice with hand embroidery and a particular love of crewel work, she gravitated to appliqué, both hand and machine, as her primary construction technique. While she creates abstract quilts and still ventures into traditional work, her niche is representational art quilts. But rather than being realistic, they have a cartoon-like quality.
As a graduate of the rigorous three-year program in design and embroidery at the City and Guilds Institute of London, she completed both traditional and experimental work. One of the primary takeaways she gained was the importance of sampling–sampling both materials and techniques to determine what best suits a design and project. Materials might include textile paint or watercolor pencils and techniques could be couched, hand-twisted cords or machine zigzag appliqué.
She has been judging quilts and wearables since 2002 and certified through the National Association of Certified Judges (NACQJ). Kathie, one of their Qualified Instructors, is a passionate teacher of their Two-Day Judging Seminar. She also frequently presents to guilds on the topic. Her goal is to explain how the evaluation process is meant to
encourage and educate, rather than be something to fear. For seven years, Kathie was a contributing editor to American Quilter magazine, writing over 100 articles on processes, patterns, and interviews, which contributes to her deep quilting knowledge.
Kathie is a native of Portland, Oregon. But for several years, she lived in Montréal and Paris, where she studied at ´Ecole Lesage, furthering her embroidery skills. As a member of 20 Perspectives, an international textile art group composed of quilters from nine countries and four continents, she exhibits work internationally.
Kathie's accomplishments and awards are numerous, and we are delighted that she will be presenting to the WQG in June.
May 2022 Speaker – Cynthia Brunz:
May 12, 2022 – Cynthia Brunz
www.QuiltingIsMoreFunThanHousework.blogspot.com
facebook: Cynthia Brunz Designs
cynthiabdesigns@gmail.com
Cynthia Brunz is a longarm quilter and pattern designer from Eugene, Oregon with a passion for making beautiful quilts from scraps. She's been serious about quilting since around 2003. Even though she sewed with her grandmother when she was young, she really didn't start learning good techniques and habits until she started taking some classes and getting some difficult quilts under her belt. She loves fabrics with lots of color so she tends to quilt toward the more contemporary spectrum. She's drawn to simple lines and allowing the colors and fabrics to do all the work, which you can see reflected in her quilts.
Cynthia will be the featured quilter at our October, 2022 quilt show. Her presentations for the show will be different from her presentation at our May guild meeting. Lucky us! We get twice the information from this wonderful quilter!
April 2022 ***************************************
Our March 2022 Meeting Featured Event


2022 Challenge
Paint Chip Reveal!!
Our Meeting March 21st showed all of the wonderful block creations that were created using two "random" paint chips to lead us to our 12″ finished block.
click here to see a slide show of the entries!
Thank you, Carrie, for organizing it!
Each person selected 2 numbers and were given the paint chips that corresponded to those numbers. Then the challenge was to create a 12 inch block using those colors!


Our February 2022 Featured Speaker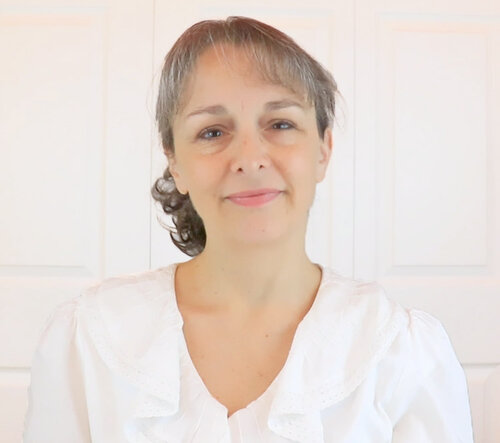 Jaimie Davis

Jaimie Davis began quilting as a young mom who needed a creative outlet, and her passion has since grown into making and selling patterns, teaching, and conducting workshops with students. She lives in Tigard, Oregon and spoke to our guild several years ago about the history of Baltimore Album quilts. This versatile quilter will be back this February to speak about landscape quilts.
How to Build a Landscape Quilt from the Ground Up
(If You Don't Know How to Draw)
Have you ever wanted to make a landscape quilt but thought it was out of your reach? Join Jaimie for an insightful look at how to create a one-of-a-kind quilt even if you've never thought of yourself as an artist. Follow along as she shows you how she uses Google Images, a copier and a light box to "build" a pattern and enjoy lighthearted stories of her less-than-successful landscapes and the principles for success she discovered along the way.



Our January2022 Featured Speaker


Karen K Stone
Happy New Year! We are excited to bring you our first of many fabulous speakers for 2022 – Karen K Stone. Karen is an icon in the quilting world. Her delightfully "happy" quilts are full of color and movement and jaw-dropping intricacy. After a holiday season of over-indulging in high calorie treats, this eye candy will fill you with guilt-free inspiration. Don't miss this one!!!
A quilter since 1986, Karen's inspiration manifests equally of innovation and tradition. Her quilts have won numerous awards, including first prizes in international competitions, and her designs appear frequently in exhibitions. Her Clam Session quilt received the Master of Innovative Artistry award at IQA in 2009, and her Indian Orange Peel Quilt was People's Choice at Quilt National '95. Having enjoyed success in design, publication and teaching, she finds no greater satisfaction than in hand-finishing a newly quilted piece, with the possible exception of making someone else's color challenge her business. Karen holds degrees in Piano from Baylor and Indiana Universities, has two beautiful daughters, three exemplary cats, and rides her bike from historic Deep Ellum in Dallas, TX.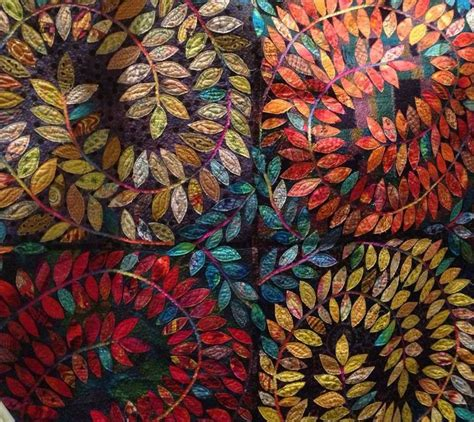 Want to take a peek at more of Karen's quilts? Do a web search for "Karen K Stone quilts" and then click on "Images" at the top of the search.
Check out KarenKStoneQuilts.com for a quick look at what Karen is currently doing.If you use EQ, they have Karen K Stone products available.
karenkstonequilts@yahoo.com

Our December 2021 "Holiday Happy Hour" Special Event

We are looking forward to our General Meeting, where we can celebrate together. We will have a "Holiday Happy Hour" on December 20th, (via ZOOM). Bring your favorite beverage to
Zoom – and be ready to visit with old friends – and meet some new ones.
Our November 2021 Featured Speaker


For our November guild meeting, we will be treated to a presentation from Karen Brown. This popular quilter titles her presentation, "Be the Best Quilter You Can Be". Karen has become an online sensation in recent times, teaching her fans how to organize their sewing space, conquer their UFO piles, and turn their scraps into treasures. Many of our guild members are fans, learning from Karen's posts and videos, and enjoying her fast-paced, upbeat, and informative tips. Be sure to join in for the November guild meeting- you'll be glad you did!


Karen is a quilter, crafter, mother, wife, daughter, businesswoman but not necessarily in that order. She loves to make things and likes nothing better than checking things off the list. She likes trying new things, finding short-cuts and new ways of using old things. She shares what she has learned on "Just Get It Done Quilts". Her website, blog, and videos are a wealth of information and fun to explore.
You can find Karen at:
www.JustGetItDoneQuilts.com (Be sure to sign up for her newsletter)
You'll find Facebook, Instagram, Pinterest and YouTube links on the website
Our October 18th, 2021 Speaker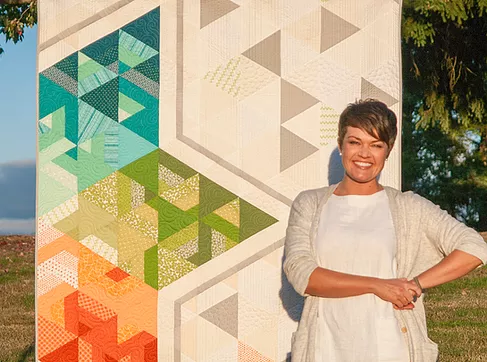 Our speaker for the October guild meeting will be Krista Moser. Krista's trunk show/lecture is "Diamonds are a Quilter's Best Friend".
Krista Moser is the creative force and inspiration behind The Quilted Life. A quilting and fiber arts enthusiast, she started sewing at 8 years old, sneaking off to the sewing machine during her Mom's nap time. Since she couldn't read patterns, everything was made from her imagination, propel the creativity and the innovative design she is known for today. She began her professional sewing and machine quilting career at the spunky age of fourteen adding the texture and dimension machine quilting brings to every project.
Krista has been teaching sewing and quilting lessons for more than twenty years. Her work has been featured in quilting magazines, published by Martingale Press, and hung in prominent quilt shops around the country.


Find Krista:
E-mail: info@kristamoser.com
Facebook: https://www.facebook.com/kristamoserquilt/
Instagram: https://www.instagram.com/krista_moser/
Pinterest: https://www.pinterest.com/kristamosertheq/

Our September 20th, 2021 Speaker
The featured speaker for our September guild meeting is Kim Jamieson-Hirst of Chatterbox Quilts, who will be zooming to us from Alberta, Canada. She will speak about "How to Conquer Your Fear of Free Motion Quilting". What are most quilters afraid of? Free motion quilting! In this presentation, Kim addresses the reasons behind this fear and how to overcome them and actually enjoy free motion quilting.
Kim is a teacher and creator of several quilting courses, such as First Steps into Free Motion Quilting, Stitch Composer Basics, and others. Kim shares her quilting knowledge through her YouTube channel, Chatterbox Quilts' Facebook group, and her private online membership, The Quilter's Way, where the focus is on free motion quilting. Kim's patterns and articles have been featured in various quilting magazines and she has been a guest on several quilting podcasts. Her YouTube videos have been viewed by thousands of quilters who appreciate her upbeat personality and easy to understand tutorials.
Kim believes that quilting is more than stitching an accurate ¼" seam, that chocolate is an essential quilting tool, and that "practice makes improvement".
Connect with Kim at:
Chatterbox Quilts: http://www.chatterboxquilts.com
The Quilter's Way: http://thequiltersway.mpqs
YouTube: http://www.youtube.com/chatterboxquilter
Facebook: http://www.facebook.com/chatterboxquilts
Instagram: http://www.instagram.com/chatterboxquilts/
Pinterest: http://www.pinterest.ca/cbquilts/

Our August 2021 Featured Speaker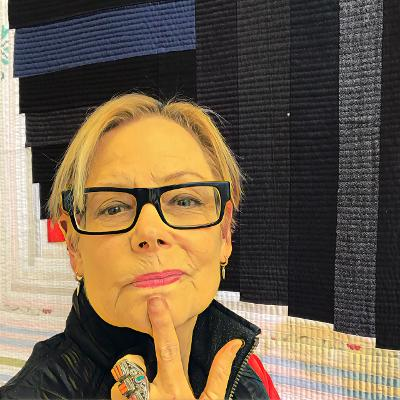 We are thrilled to tell you that we have a wonderful speaker filling in for Jaimie! Meg Cox will be zooming to us from her home in New Jersey. Her program is titled, "Behind the Scenes at the Greatest Quilt Museum in the World". Meg serves on the board of advisors of the International Quilt Museum in Lincoln, Nebraska and will reveal some of the treasures of this amazing place. Read more about Meg and her lecture on her website- www.MegCox.com. And while you're there, you can sign up for her newsletter.
Check out the recent "Quilter on Fire" podcast featuring Meg:https://www.youtube.com/watch?v=08OeWec_1CU
Meg is a well known speaker and has many topics. When she does this particular program, she donates 100% of her lecture fees to the International Quilt Museum.
Please enjoy this informative and entertaining speaker on Monday evening- set your alarms so you don't miss it!!!

Our July 2021 Featured Speaker

Trudy has been sewing since she was 12 years old and has progressively grown as a sewing enthusiast. Starting a LongArmer business meant she needed to find a way to document her journey. Taking photographs of her customers quilts seemed the logical step. Trying to perfect her photography of quilts led her to take digital classes at the community college. The first class "Digital Photography" opened up a new world and led to constantly improving on the technique of photographing quilts. She still maintains a LongArmer business and takes a photograph of eery customer quilt. She lectures and offers workshops on "How To Photograph Your Quilt".
Her website is https://trudycleveland.com/quilts-photography/

.
June 2021


Cheryl Malkowski lives in Roseburg, OR, with her husband, Tom, and her dogs, Cooper and Gracie. She loves everything about quilting as long as it can be done with a machine. A quilter since 1993, Cheryl has written 6 books with C&T Publishing, including the best seller, Doodle Quilting, and its sequel, Doodle Quilting Mania. She has been published several times in magazines such as American Patchwork & Quilting and Fons & Porter's Love of Quilting, and has her own pattern company, Cheryl Rose Creations.
She has worked closely with Timeless Treasures Fabrics, designing mostly with their Tonga Batiks. Her first line of fabric came out in 2010 and she's currently acquiring the skills needed to do it again with her own artwork . She has been a featured guest on The Quilt Show with Alex Anderson and Ricky Tims, and Quilt It! The Longarm Quilting Show. She loves to travel and teach.

May 2021 Featured Speaker – Lori Dickman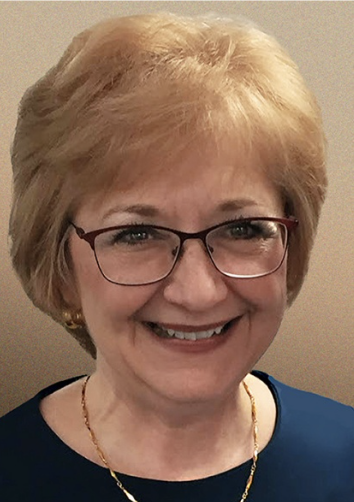 Lori Dickman has been sewing for over 45 years and quilting for over 30 years. She teaches numerous quilting and sewing classes. After spending 15 years concentrating in the art of garment sewing, she began her quilting journey in 1988 when she created her first quilt. Living in the Chicago area has allowed her the privilege of attending
workshops and classes taught by nationally-known sewing and quilting instructors at the many Expo's in Illinois and Wisconsin, as well as through the American Sewing Guild. The art of "Making" has been a wonderful journey for her!
For our May guild meeting, Lori will be zooming to us from her home in Rockford, IL. She will be presenting her "Favorite 3-D's: Dresdens, Diamonds, and Drunkard's Paths". We'll be treated to a trunk show of Lori's favorite "D" quilts! This trunk show features over 30 of Lori's quilt designs with styles that will cover every quilter's favorites: from traditional to appliqué to modern and everything in between! In this lecture, Lori will inspire you to pick up those template rulers and have fun designing and piecing fabulous quilts! Quilting templates have always been Lori's "go-to" tools for piecing fast and fun quilts.