Our Upcoming Program Speakers

Our September 20th, 2021 Speaker


The featured speaker for our September guild meeting is Kim Jamieson-Hirst of Chatterbox Quilts, who will be zooming to us from Alberta, Canada. She will speak about "How to Conquer Your Fear of Free Motion Quilting".  What are most quilters afraid of? Free motion quilting! In this presentation, Kim addresses the reasons behind this fear and how to overcome them and actually enjoy free motion quilting.
Kim is a teacher and creator of several quilting courses, such as First Steps into Free Motion Quilting, Stitch Composer Basics, and others. Kim shares her quilting knowledge through her YouTube channel, Chatterbox Quilts' Facebook group, and her private online membership, The Quilter's Way, where the focus is on free motion quilting. Kim's patterns and articles have been featured in various quilting magazines and she has been a guest on several quilting podcasts. Her YouTube videos have been viewed by thousands of quilters who appreciate her upbeat personality and easy to understand tutorials.
Kim believes that quilting is more than stitching an accurate ¼" seam, that chocolate is an essential quilting tool, and that "practice makes improvement".


Connect with Kim at:
Chatterbox Quilts: http://www.chatterboxquilts.com
The Quilter's Way: http://thequiltersway.mpqs
YouTube: http://www.youtube.com/chatterboxquilter
Facebook: http://www.facebook.com/chatterboxquilts
Instagram: http://www.instagram.com/chatterboxquilts/
Pinterest: http://www.pinterest.ca/cbquilts/
Our October 18th, 2021 Speaker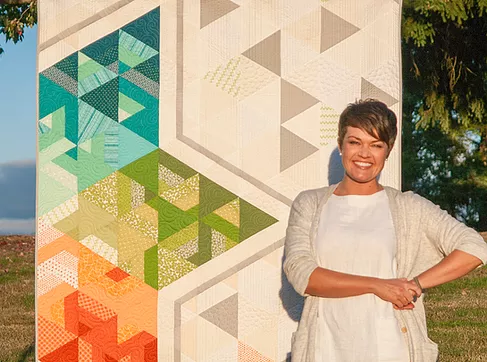 Our speaker for the October guild meeting will be Krista Moser. Krista's trunk show/lecture is "Diamonds are a Quilter's Best Friend".
Krista Moser is the creative force and inspiration behind The Quilted Life. A quilting and fiber arts enthusiast, she started sewing at 8 years old, sneaking off to the sewing machine during her Mom's nap time. Since she couldn't read patterns, everything was made from her imagination, propel the creativity and the innovative design she is known for today. She began her professional sewing and machine quilting career at the spunky age of fourteen adding the texture and dimension machine quilting brings to every project.
Krista has been teaching sewing and quilting lessons for more than twenty years. Her work has been featured in quilting magazines, published by Martingale Press, and hung in prominent quilt shops around the country.


Find Krista:
E-mail: info@kristamoser.com
Facebook: https://www.facebook.com/kristamoserquilt/
Instagram: https://www.instagram.com/krista_moser/
Pinterest: https://www.pinterest.com/kristamosertheq/

Our November 15th, 2021 Speaker


For our November guild meeting, we will be treated to a presentation from Karen Brown.  This popular quilter titles her presentation, "Be the Best Quilter You Can Be".  Karen has become an online sensation in recent times, teaching her fans how to organize their sewing space, conquer their UFO piles, and turn their scraps into treasures.  Many of our guild members are fans, learning from Karen's posts and videos, and enjoying her fast-paced, upbeat, and informative tips. Be sure to join in for the November guild meeting- you'll be glad you did!
Karen is a quilter, crafter, mother, wife, daughter, businesswoman but not necessarily in that order. She loves to make things and likes nothing better than checking things off the list. She likes trying new things, finding short-cuts and new ways of using old things.  She shares what she has learned on "Just Get It Done Quilts". Her website, blog, and videos are a wealth of information and fun to explore.
You can find Karen at:
www.JustGetItDoneQuilts.com (Be sure to sign up for her newsletter)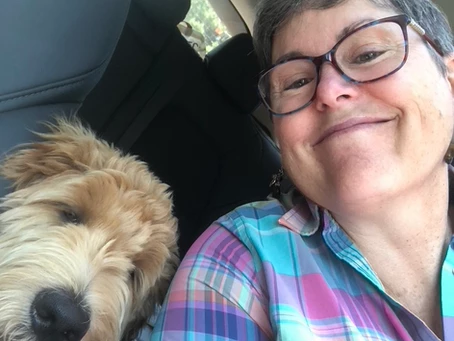 You'll find Facebook, Instagram, Pinterest and YouTube links on the website